Attendees
Make your next move
Unlock your full potential and kickstart your career journey at Career Fair Canada!
With the right training and resources at your fingertips, you can sharpen your skills and stand out from the crowd. But that's not all - mix and mingle with top companies and employers eager to meet a talent like you! Take the first step towards a brighter future today and register for an event.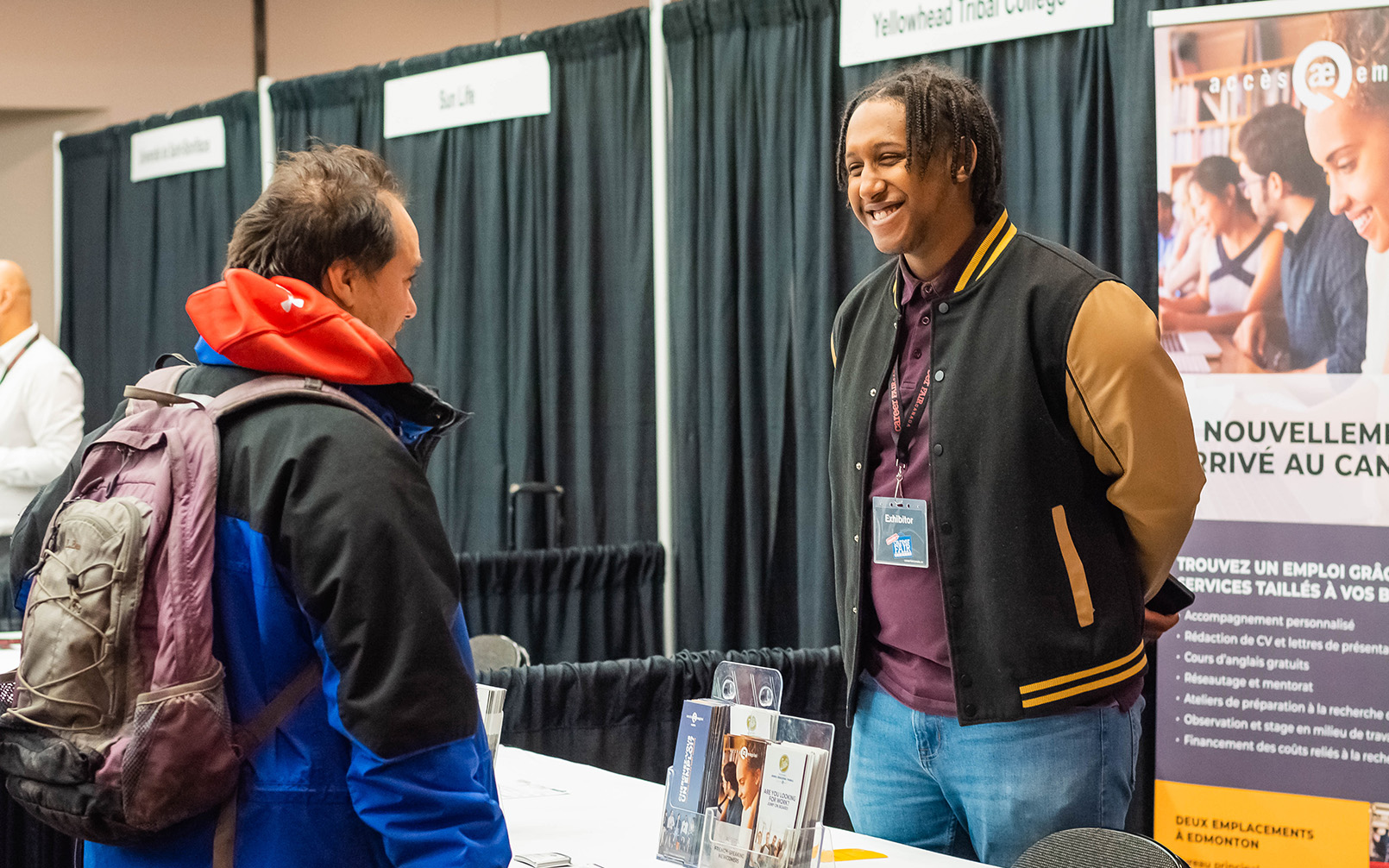 Find the next event near to you
Hamilton
September 27, 2023
Wednesday, 10AM to 2PM
Hamilton Convention Centre
Vancouver
October 03, 2023
Tuesday, 10AM to 2PM
Vancouver Anvil Centre
Calgary
October 11, 2023
Wednesday, 10AM to 2PM
BMO Centre - Stampede Park
What you need
Before

Register and get your ticket
You can sign up for an event by going to our Events page and finding the event you want to attend. And don't forget to follow us on Facebook and Instagram for updates on exhibitors and contest opportunities.
Have your resume handy
Have a few copies printed and ensure your resume is current and applicable to opportunities you're interested in applying for.
Check your commute
Make sure you have the right address and plan a travel route. Check for delays on public transportation, and if you're driving, be sure to arrive early to snag a parking spot.
Have refreshments on hand
No matter how long you plan on staying at an event, always make sure you have some snacks and water on hand. Having refreshments nearby makes everything that much easier.
During

Invite your friends
Chances are, if you are looking for a new opportunity, you know someone else who is as well. Support each other's career ambitions by bringing them along to a live event.
Wear appropriate attire
First impressions always matter. Aim for a professional business-casual look because you never know who you might run into.
Have an elevator pitch
Prepare a short introduction for yourself. Being able to market yourself concisely in 30 seconds or less is a great way to stand out and maximize potential opportunities.
Learn something new
Do you want to do something outside of your current field? Are you missing the necessary credentials that you need to elevate your resume? College exhibitors at any event are there to give you an edge. Even if you are not looking for a brand-new path, they are great resources to learn what you need to get to where you want to be.
Network, network, network
Your fellow attendees may be your biggest asset yet. Once you start speaking to other jobseekers, you can start collaborating. Share information about job leads, companies, and learn about each other's application strategies and styles.
After

Follow up with recruiters
Taking the time to send out 'thank-you' emails the day after an event can go a long way. Make sure to collect business cards from recruiters so you can send them something professional, short and sweet. It's a great way to stay memorable.
Compete on our attendee survey
Make sure that you enter our feedback contest for a chance to win a $25 Amazon Gift Card.
Want to stay ahead of our events?
Get the latest news for your education and career development